Our suppliers
A&A Biotechnology s.c.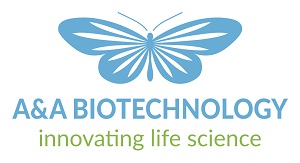 A&A Biotechnology is a Polish biotech company founded by its current President, Dr Adam Burkiewicz in 1993. The company's main R&D interests, experience and manufacturing are focused on high quality tools for molecular biology. A&A Biotechnology headline idea and mission is expressed in a best way the following catchphrase "Bright Ideas for Molecular Biology". A&A Biotechnology is completely based on Polish independent capital and supports its R&D activities on its own recources. Visit their webpage here.
Softgenetics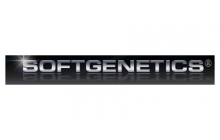 SoftGenetics is the leading provider of effective, biologist friendly, easy-to-use genetic analysis software tools to meet the ever changing needs of today's genetic researcher and diagnostician. We offer leading edge software powertools for genetic analysis, like Mutation Surveyor® DNA variant analysis of Sanger Sequencing software, NextGENe® 2nd Generation Sequence Analysis software, GeneMarker® the "Biologist Friendly" Genotyping software, GeneMarker®HID STR Human Identity software, JelMarker™ Image Reading and Conversion software, and ChimerMarker™ Automated Chimerism Analysis software. Visit their webpage here.
Amoy Diagnostics

Amoy Diagnostics Co., Ltd. provides state-of-the-art molecular diagnostic products and services to various customers including but not limited to healthcare providers, academic institutions and pharmaceutical companies. AmoyDx has a rich portfolio of test kits that mainly focuses on oncology target therapy companion diagnostics. Visit their webpage here.
MCLAB

Molecular Cloning Laboratories (MCLAB) is a leader in providing genomic research consumables and services to the Life Sciences community.MCLAB provides cost-effective consumables and reagents, focusing on first generation as well as next-generation sequencing and DNA fragment analysis. Carry a large selection of molecular biology related products, including antibodies, biochemical reagents, cloning kits, enzymes, PCR kits, protein gels & solutions and more. Being its own manufacturer allow to control the production process and minimizes delays in custom and large-scale orders. It helps to ensure our customers are getting the highest quality and value. With a team of over twenty experienced scientists, MCLAB is committed to offering first-rate services to researchers. We specialize in the field of genomics, with experts in DNA sequencing, fermentation, fragment analysis, molecular cloning, over-expression, protein purification, and protein synthesis. Takes a tailored approach to customer service, giving you the opportunity to customize your project and speak directly with our team of scientists for technical support. With over six decades of experience, our talented and skilled staff is dedicated to getting the results you need.
MCLAB has offices in China and distributors all around the world, including Australia, Austria, Belgium, Canada, Czech Republic, Denmark, Germany, Hungary, Greece, India, Israel, Poland, New Zealand, Turkey, United Kingdom and Vietnam, so we can better reach our customers. If your country is not on this list, please contact our USA headquarters for more information. Visit their webpage here.
Peqlab

PEQLAB was founded with headquarters in Erlangen, Germany, and it is now, our purpose to provide excellent products at a fair price supported by dedicated, laboratory experienced staff to those who work at the cutting edge of molecular and cell biology. PEQLAB develops, manufactures and supplies reagents, consumables and instruments of impeccable quality for molecular and cell biology. Whether you are the smallest of laboratories or the largest of institutions, we are here to give you the support and assistance that you need. Visit their webpage here.
Key products
PCR - In addition to the modern peqSTAR thermocycler range for classic PCR and the SmartCycler® for real time PCR we offer an extensive collection of enzymes and reagents for the amplification of nucleic acids.
RNA/DNA isolation - Komplexní sortiment více než čtyřiceti systémů peqGOLD kitů dovoluje extrakci DNA a RNA ze vzorků prakticky jakéhokoli původu a rozsahu.
Electrophoresis - With a wide selection of horizontal and vertical electrophoresis systems and semi-dry and wet electro blotting sets, our PerfectBlue® product line is designed to meet your experimental requirements and setups.
Bio Imaging Systems/Gel Documentation - The PEQLAB imaging portfolio offers a high performing set of systems designed to match laboratory budgets and imaging requirements.
Gel Company

Gel Company is San Francisco company that develops and manufactures cost-effective products to the Life Science research community that are used in many leading Genomics, Proteomics and Cell Biology labs around the world. Gel Company is dedicated to provide high quality innovative products and friendly, efficient service – ALL at a very fair price. Visit their webpage.
Capp Denmark

Capp ApS is a privately owned Danish manufacturing company that enjoys the reputation of a dependable supplier of liquid handling products all across the world due to its strong focus on providing innovative and user friendly global standard premium liquid handling equipments. Visit their webpage here.
EURx

EURx is a privately held biotechnology company located in Poland that offers a full line of modifying enzymes, restriction endonucleases, nucleic acid labeling products, and other ancillary molecular reagents. EURx has considerable expertise in the areas of fermentation, cloning and protein engineering, purification and microplate detection technologies. Visit their webpage.
Neuation

Neuation products are designed and developed by it's own R & D team employing a User Centric Design Process to develop the high performance Digital Centrifuge range with extreme attention to detailing, user interface and quality. Features are carefully layered into the design to allow users to meet demanding work place requirements with ease. Visit their webpage here.
Aviscera Bioscience

American company Aviscera Bioscience focuses on research and development of new biomarkers, myokines, adipokines, cytokines, growth factors and others for cardiovascular diseases, metabolic syndrome, obesity, cancer and osteoporosis researches. The company is leading supplier of ELISA kits, antibodies and recombinant proteins. Visit their webpage here.